SM Entertainment confirms EXO's Chen will be getting married to a non-celebrity.
The wedding will be private and only attended by the families of both parties. It has also been revealed the couple is expecting their first child.
Chen posted a handwritten letter regarding his marriage (Translation cr. allkpop):
"Hello, this is Chen. I'm writing because I have something to tell you. I don't know how to start and I am very nervous to break the news. But I wanted to be the first to tell my fans, who showed love and support for me, so I'm writing despite my crude writing.
I have a girlfriend who I want to spend the rest of my life with.
At first, I was worried about the consequences of my decision. But I was discussing it with the label and the members on how to deliver this, so you won't be surprised out of the blue.
But then I was graced with good news.
Now that I couldn't do what I have been planning with my label and members, I worked up my courage, though I am not fully prepared. I couldn't hold it any longer.
I appreciate my members who genuinely congratulated me, and thank you very much for your love and support. I will be forever grateful for your love, and I will do my best in my place, as usual, to reciprocate your love. Thank you always."
Original letter: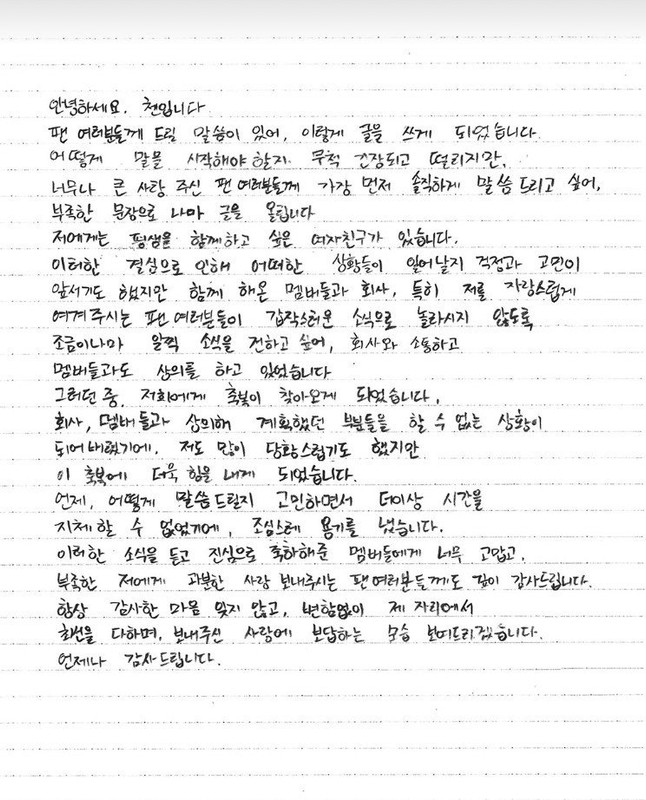 Article in korean: https://entertain.naver.com/read?oid=109&aid=0004149813